I have heard Skinny Pizza many times but have been wondering what's unique about this. Finally, for a gathering and L's belated birthday celebration, we headed to Skinny Pizza at Wheelock Place for lunch. We tried calling earlier to make a table reservation but they do not accept reservation, thus for you guys out there who is interested in trying this, please be patient and queue. :)
If you are thinking this is like a italian pizza with a thin crust, you are right and wrong at the same time. Right that the crust is thin but wrong that the crust is not the typical dough type. In fact, the crust is so crispy that it reminds me of fried wantan skin. We ordered a few items: mushroom soup, spinach & egg pizza, English breakfast pizza and lobster linguine.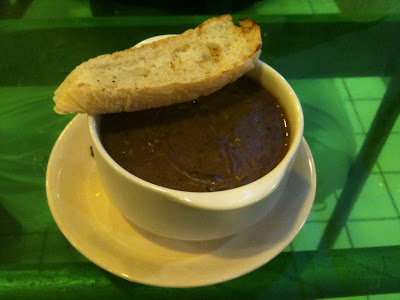 Mushroom soup
Spinach & egg pizza
Sorry that there were only 2 pics of the food we ordered as we were already consuming the food before I realised that I have yet to take pics of it!!!
One thing for sure is the pizza does not taste like the normal italian pizzas, which has a nice twist to it. Price wise I would say it is not as friendly as it's not exactly filling (I fill un-hungry but not full, if you get what I mean) as a pizza typical ranges between $18 - $24. A must-try is the lobster linguine which is absolutely heavenly. Lobster is fresh and the linguine seems to be tossed in olive oil and herbs which tastes fabulous. Tried the mushroom soup but I didn't quite like it as it taste weird, I think because there is truffle oil in it, much prefer the cheaper type of mushroom soup. Haha.
Customer service wise is pretty decent as the waitress gave us her recommendation on what are the recommended food on the menu and they are friendly and smiley. They also responded pretty quickly towards our requests to have our water topped up and clearing of our plates.
For you guys out there who prefer a different type of pizzas, this is a good place to try. However, if you are looking for food to satisfy your cravings or hunger, I would not recommend this place.