I do not usually paint my nails since my nails are naturally small and short and I am not used to having long nails. Having short nails always give me the feeling that they will look ugly when painted. However, I noticed that painting short nails look all right after a while as I like it, who cares right? Hehe.
Anyway, I order some
Illamasqua
items with
Tracy
some time back and 1 item was a highly raved nail polish, DWS. It's a matte grey nail polish with a very smooth consistency that is seriously impressive.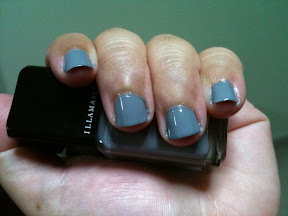 The brush of Illamasqua is quite broad (like OPI) which makes it quite idiot proof for amateur 'painters' like myself. The colour is thick and smooth which makes applying 1 coat sufficient to bring out the colour (for other polishes, we usually need 2-3 coats to bring out the colour). I have painted 2 coats above to make the colour stronger and more consistent.
I have to say that I am truly happy with my Illamasqua products and is seriously tempted to order more stuffs from them. Anyone wanna share shipping cost with me?? :)