Remember my posting of my
1st Gelish experience
2 weeks plus back? I'm back here to share my view of this now.
First thing first, the claim that Gelish nails stay on for 3 weeks or so is not applicable for me. Maybe it is just me but I noticed after 1 week, the edges started to peel and are not sticking properly to the nails. This could be due to me doing housework. For those who claims that Gelish last super well on them, they are proper gals who need not do housework at all.
The trouble with Gelish nails is that you have to go back to a nails place to do a soak off to remove it properly. Seriously, this is way too troublesome for me....... It is so much easier if I can just grab my nail polish remover and remove the polish when it starts to chip even though it is only for a week or shorter.
And even if Gelish lasts well on me, with the nails growing out, it look super ugly too!!! Don't believe?? See the pic below?? Can't stand it!!!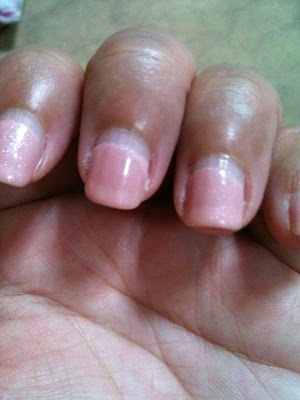 The only advantage I can think of for Gelish is the beautiful gloss and shine after weeks but the fact that it doesn't last well on me and hassle of having to go back to a nails palour to do a soak off is quite a turn off.
Will I do a Gelish nails again? Hmm, maybe but I might properly consider again before deciding since there are more push factors then pull factors.